Train With Storm Locally
Do you want to get quicker? Do you want to jump higher?
Do you want to be more agile on the court? Do you want to get stronger?
Do you want to simply become a better athlete?
Then you need to begin to train like an athlete.
If you're local to the Corpus Christi/Coastal Bend area we want to help you become a better athlete.
Monthly at our Storm Performance Training Center, we train female athletes who are in 6th-12th grades to get quicker, stronger, jump higher and be better athletes. During the summer and on Christmas break we even have programs for collegiate players who are at home and still need to train.
We specialize in training female athletes. And we want to help them become better athletes.
CLICK HERE TO SEE WHAT WE ARE OFFERING THIS MONTH OR KEEP READING TO LEARN MORE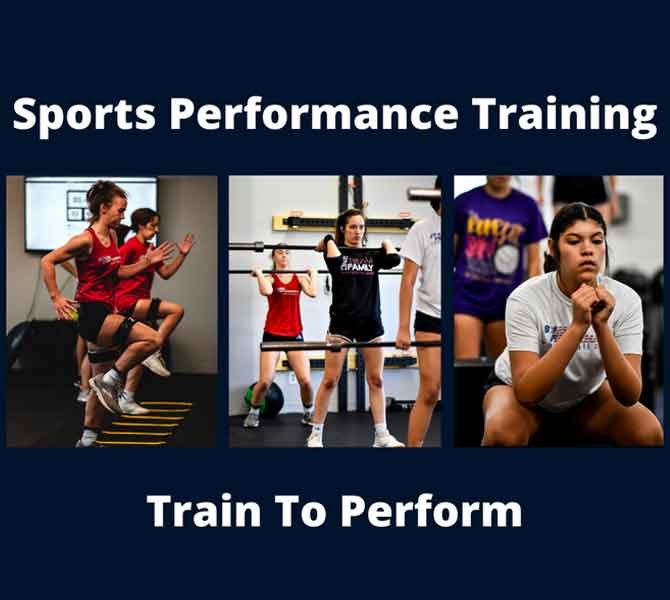 Being an athlete for any sport demands having explosive power, speed, stamina, quick directional changes and fast reaction time. The goal of Storm's Performance Training Program is to physically prepare athletes to meet these demands in order to compete at the highest level.
Our trainers are not only certified but experienced coaches who have coached numerous sports and also played sports collegiately. 
They have helped prepare athletes in-season as well as in off-season. Having coached volleyball, softball, basketball, tennis, soccer, and others they design workouts to help athletes perform and excel.
Our Standard Performance Training Program is geared around speed, agility, and quickness. It is a small Group Workout designed to improve coordination, strength, quickness, increase vertical, and prevent injury, through effective and efficient form in drills that encompass:
Acceleration- applying as much force as possible into the ground to explode from a still or slow moving stance, while having good shin angles and body angles

Deceleration- slowing down and breaking from sprinting

Jumping- preventing knee valgus (collapsing ) and/or pushing forward when loading hips to jump, and using as much force on two legs or one leg

Landing- preventing knees and ankles (the joints) from absorbing force after jumping by learning how to use leg and hip muscles to absorb force instead

Sprinting – applying as much force as possible with solid knee lifts, and striking the ground using the balls of the feet. Many athletes heel strike when they sprint in their Athlete Assessment and don't even realize it. Heel striking while running or sprinting over time will lead to shin splints, and foot, ankle, knee, hip and low back pain. Sprint drills also ensure efficient arm swing, and stability through the core
Cutting- being as efficient (quick, agile, and coordinated) as possible during change of direction

Backpedaling- retreating (backward movement) motion, where the athlete maintains "nose over toes" posture and efficient arm action

Lateral movement – learning how to side shuffle by starting and maintaining an athletic stance throughout the movement and being efficient by not clicking the heels and bobbing up and down
Program Basics
All Workout Sessions are group oriented for up to a maximum of 8 athletes.

Open to all athletes regardless of club, school or sport affiliation.

MUST BE IN GRADES 6TH – 12TH (Except for our early movers)

Athletes sign up on a monthly basis and train for 4-5 weeks dependent on the month

Sign up is always at the beginning of the month.

If there are openings you can email us during the month and ask about joining in our monthly Sports Performance Training at ccstormvb@gmail.com

All our training takes place at our new Storm Performance Training Center located at 11265 Leopard Street, Corpus Christi, TX 78410
We're Offering Four Main Athlete Training Packages To Purchase Each Month
HERE ARE SOME OF OUR CURRENT PROGRAMS WE OFFER:
Speed Strength Agility Training – For grades 6-12th focusing on agility and strength training for today's athletes. This is our standard program which is great for any athlete who wants to have quicker feet, be more athletic, and get stronger. This is great for any athlete regardless of sport or position.
Jump Foundation Training – A twice a week program that is our foundation program to getting a higher jump. We focus solely on fixing and fine tuning any jumpers technique.
Vertical Power Training Program – NOT A BEGINNER TRAINING PROGRAM. MUST HAVE GONE THROUGH OUR JUMP TECHNIQUE TRAINING PROGRAM. This program is for 8th grade-college level athletes who have gone through our Jump Technique and want to step up into the next level of improving their jump through strength and explosive training.
Early Movers for grades 3rd-5th – If we're offering this we teach these young athletes how to move and begin to work on their overall athletic ability. (Please check to see if we are offering in the current month)
CLICK ON OUR NEXT MONTHLY TRAINING PROGRAM BELOW TO REGISTER FOR OUR NEXT MONTH OF PERFORMANCE TRAINING.