Welcome to Storm Volleyball Academy, where we are dedicated to Training the Next Generation of Volleyball Superstars!
What Is Storm Volleyball Academy
From the moment they step onto the court, our academy provides a transformative volleyball training experience for young athletes aged 5 to 7th grade. We believe in nurturing their passion for the game, developing their skills, and introducing them to the exciting world of volleyball.
Storm Volleyball Academy is a dynamic monthly training program meticulously designed to teach the fundamentals of volleyball. Our comprehensive curriculum focuses on building a strong foundation of skills, techniques, and game understanding. Whether your child is new to the sport or seeking to enhance their abilities, our program offers the perfect platform for growth.
Our structured training sessions ensure that each athlete receives personalized attention and guidance from our experienced coaches. We understand that not all young athletes are ready for the commitment of a travel team, which is why our academy provides a flexible and supportive environment for those who simply want to train and improve their skills.
At Storm Volleyball Academy, our ultimate goal is to empower young players to reach their full potential on and off the court. We strive to instill values such as teamwork, discipline, and sportsmanship, creating a positive and inclusive community of aspiring volleyball superstars.
Our training program allows each athlete to get volleyball training through an organized program. It is also great for those who are not quite ready to commit to the requirements of a travel team or simply can't but still want to train.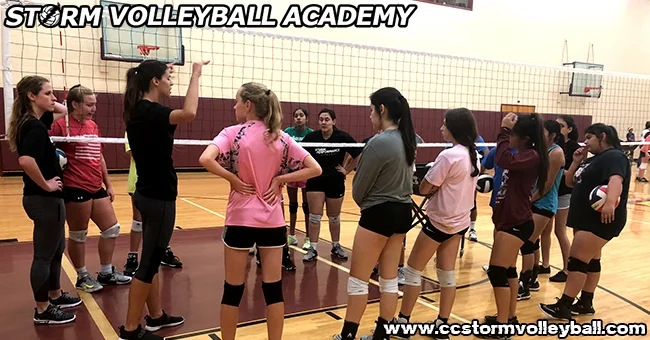 Join us as we embark on a journey of growth, skill development, and fun. At Storm Volleyball Academy, we are passionate about Training the Next Generation of Volleyball Superstars, and we can't wait to inspire and shape the future of the sport together.
What Will I Need To Train In?
All purchases are final. Due to coaching fees, gym rentals, and supplies all fees are non-refundable.
IMPORTANT PLEASE REGISTER ONLY FOR THE DAY OF THE WEEKYOU ARE WANTING
PLEASE NOTE – IF YOU CAN NOT MAKE IT OR CANCEL, DUE TO FEES FOR GYM AND COACHES YOU WILL NOT BE REIMBURSED OR BE ABLE TO SWITCH NIGHTS. ALL SPOTS SOLD ARE DEPENDENT ON HAVING A FULL GYM AND PARTICIPATION.
Storm Performance is locally owned and operated and is not affiliated with any ISD, school, church or local area programs or any athletic programs where we host our training. Training is open to any girls from any schools in the area.