Lil' Storm Volleyball is part of our Storm Academy which designed to train girls 5-10 in the fundamentals of volleyball.
LiL Storm works with girls 5-10 years of age and is our youth developmental volleyball training program with our coaches focusing on the fundamentals of volleyball for beginners. The focus will be on individual & group drills with the athletes through the sessions. The athletes will be supervised and introduced to what we feel is the best sport on the planet. So many areas start their athletes at a young age way before our area introduces ours to the game. Our area is traditionally behind because our volleyball girls start much later. In order to close the gap on a lot of Northern teams and train great future volleyball players that will impact the sport in our area we started our LiL' Storm Youth Volleyball Program.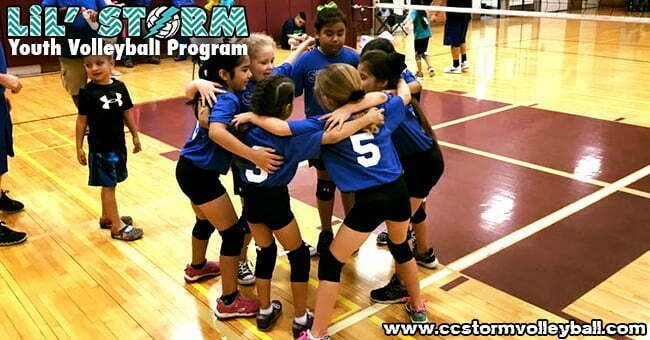 This program is ideal for the young athletes ages 5 to 10 who are just beginning to play volleyball and are either too young or not quite prepared to compete for a regular competitive "club" volleyball program. Ultimately, it is about helping each young athlete to be the best that they can be. LiL Storm is also our program to get our young players training for club season and our spring league.
Youth Volleyball Program Details
We've worked hard to create a youth volleyball program designed specifically to help young athletes prepare their game for the future.
Who Is Lil' Storm Volleyball For?
Our location will be open to 20 youth-age athletes, ages 5 to 10, for the full session program.
How Long Does Lil' Storm Volleyball Last?
Lil' Storm typically lasts for THREE OR FIVE weeks (dependent on the month and our facilities) and our "lil" athletes train ONCE a week for an hour each session.
What Happens In Each Session?
Weekly, there will be a one hour training session for our youth volleyball program designed to introduce athletes and their parents/guardians to the fundamentals of the game. Each session will focus on different individual and group drills that are centered around the core fundamentals of volleyball. We will be working on serving, passing, setting and the basic attack.
How Much Do The Sessions Cost?
If you believe this youth volleyball program is what you've been looking for sign-up now for our next session.
The cost of the program might be different depending the month and on our locations. CLICK HERE to our registration site for our latest price and details.
There is no refund due to securing locations and coaches for program. Price is set based on full participation.
IMPORTANT PLEASE REGISTER ONLY FOR THE AGE GROUP AND LOCATION YOU ARE WANTING
Where Is Our Training Location?
Typically we train out of the Tuloso-Midway School Gyms

Our LiL' Storm program is not affiliated with Calallen ISD, Tuloso-Midway ISD, or their athletic programs.
All fees are non-refundable.
Remember our program is open to girls or boys ages 5 to 10 years of age. We will have spots available for only 40 athletes at each locations age groups.
We are not affiliated with the schools or programs where we host our training. Training is open to any girls from any schools in the area.
IMPORTANT PLEASE REGISTER ONLY FOR THE LOCATION/DATE YOU ARE WANTING
PLEASE NOTE – IF YOU CAN NOT MAKE IT OR CANCEL, DUE TO FEES FOR GYM AND COACHES YOU WILL NOT BE REIMBURSED OR BE ABLE TO SWITCH NIGHTS. ALL SPOTS SOLD ARE DEPENDENT ON HAVING A FULL GYM AND PARTICIPATION.