LiL Storm Volleyball Camp 2019
June 3rd & 4th
By Storm Performance Volleyball
Start building volleyball skills with our one day Volleyball Camp just for our LiL Storm athletes on June 3rd & 4th.
If you are looking for Volleyball Camps in Corpus Christi then register for ours today.
LiL Storm Volleyball Camp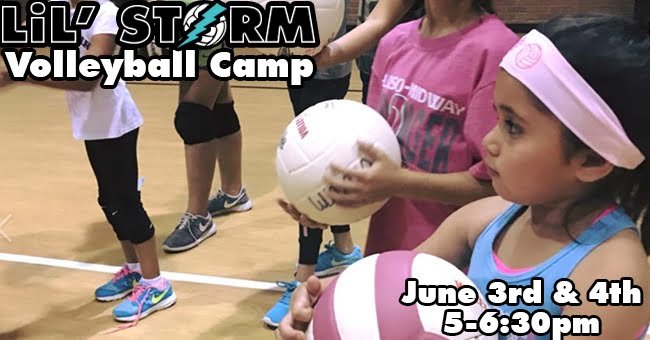 With our LiL Storm Volleyball Camp you will get great training, competitiveness and a whole lot of fun. We are set to help continue building the skills your LiL athlete needs to be volleyball ready for the future. Our Storm Coaches are excited and set to have a fun & exciting camp with you.
We can also evaluate you for one of our club teams at this camp. We'll have spots for some of our 10's, 11's, 12's Teams for the 2019-20 season. Check out our TRYOUTS PAGE for openings. If you'd like more info about evaluations email us the email link at the top of website.
Volleyball Camp Dates & Ages
CAMP DATES – June 3rd & 4th, 2019

LIL' STORM CAMP AGES – Ages 6 to 11 years old

CAMP TIMES – 5:00pm to 6:30pm each day
Camp Location
Our camp location will be at Tuloso-Midway High School located at 2653 Mckinzie Rd, Corpus Christi, TX 78410

Storm Performance is not affiliated with Tuloso-Midway ISD or it's athletic programs.
Cost Of The Camp
Sign Up For $55 with No Camp Shirt

Sign Up For $65 To Get Camp Shirt
To register fill out the registration form below then scroll down to pay.
PLEASE NOTE…there are no reimbursements due to gym, equipment, and coaches fees.
***PLEASE NOTE – IF YOU CAN NOT MAKE IT OR CANCEL, DUE TO FEES FOR GYM, VARIOUS EQUIPMENT, AND COACHES FEES, YOU WILL NOT BE REIMBURSED. ALL SPOTS SOLD ARE DEPENDENT ON HAVING A FULL GYM AND PARTICIPATION.