2019 Positional Volleyball Camps Hosted By Storm Performance
Below is a list of positional volleyball camps offered by STORM. Please pay close attention to any "Age" and/or "Experience" recommendations for each camp. Please email questions to ccstormvb@gmail.com
To ensure that each athlete is getting as much training as possible, the number of athletes per camp will be limited to 20. Applicants will be accepted on a "first come, first serve" basis.
Each camp is designed to help athletes take their setting or attacking skills to the next level. Players will choose which positional groups to join in order to get specific training aimed at improving their game.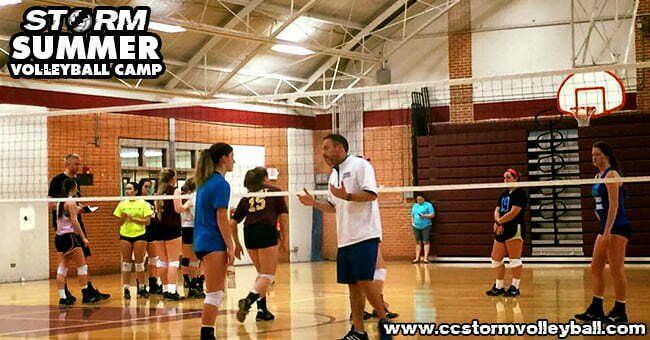 Setters will receive hundreds of repetitions and insight on how to deliver a more hittable ball for their attackers. Attackers will learn how to use their entire body throughout the attacking motion while implementing this skill within the complete game of volleyball. Both groups will be trained to use proper footwork, body posture, and explosive movement.
2019 Hitter Setter Camp
Almost every player wants to hit. Almost every hitter needs to become a dominant hitter. The Storm Performance Hitter and Setting Camp with Lead Coach Alyce Peters will focus on the proper techniques for hitters and setters to take your game to the next level.
Camp Coach Alyce Peters
2018 was Coach Peters first year at Veterans Memorial HS where she led the team to their first District Championship as well as their first regional-quarterfinal appearance. Before making the jump to high school Peters coached 6 years at the collegiate level. Most recently Coach Peters was Director of Volleyball Operations for Texas Tech University.
2019 Hitter Setter Camp Details
Date: June 17, 2019
Time: 6:30pm – 8:30pm
For Incoming Grades: 8th – 12th
Cost: $55
Camp Is Sold Out
2019 Defense Serving Camp
Become the dominant Server and Defensive player that your team needs. The Storm Performance Serving and Defense Camp with Lead Coach Joe Morales will focus on the proper techniques in both of these skills that are needed to take your game to the next level. Emphasis will be placed proper hand contact and armswing for the float, topspin and jump serves. The defense portion will focus on the technique needed to get to and pass the tough balls either on defense or on serve receive.
Camp Lead Coach – Joe Morales
Joe Morales will be entering his seventh season as the assistant volleyball coach for Texas A&M University-Kingsville. Morales has helped the Javelinas reach the Lone Star Conference Tournament every season since he arrived on the scene. His primary coaching role includes coaching setters and recruiting coordinator.
Joe graduated from Texas State University with a BA in Communications. While at Texas State, he was a member of the Texas State Men's Volleyball Club as a setter/RS. After graduating, he went on to receive his MA in Sports and Athletic Administration from Gonzaga University.
Throughout his coaching career, Joe has worked various summer volleyball camps with Texas State University and The University of Texas working and learning under their coaching staff.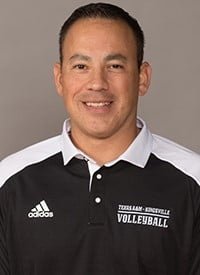 2019 Defense Serving Camp Details
Date: June 19, 2019
Time: 6:30pm – 8:30pm
For Incoming Grades: 9th – 12th
Cost: $55
Camp Is Sold Out
***PLEASE NOTE – IF YOU CAN NOT MAKE IT OR CANCEL, DUE TO FEES FOR GYM, VARIOUS EQUIPMENT, AND COACHES FEES, YOU WILL NOT BE REIMBURSED. ALL SPOTS SOLD ARE DEPENDENT ON HAVING A FULL GYM AND PARTICIPATION.