By CC Storm Volleyball
Get ready for your next volleyball season by starting out the summer with our CC Storm Texas Tough Volleyball Camp on June 6th, 7th, & 8th.
Three nights jammed packed with a high level of training and increased individual playing time for athletes in grades 9-12. We work hard on helping you refine your technique and get exposure to the tactical aspects of the game in our camp. This is ideal for the volleyball player striving to be the best. If you're in the Corpus Christi area our camp is the camp to get you ready.
Texas Tough Volleyball Camp
Camp Dates, Times & Ages
June 6th, 7th, and 8th (Monday-Wednesday).
Nightly from 6 pm to 9 pm
Grades 9th, 10th, 11th & 12th
This is for girls who will be in grades 9th – 12th next school year.
If you are looking for our Middle School or LiL Storm Summer Volleyball Camp please click >>> HERE <<<
Camp Location
Cost Of The Camp
$95 in June or at the door.
To Lock In Your Spot Please Select From The Options Below.
PLEASE NOTE…there are no reimbursements due to the gym, equipment, and coaches fees.
TEXAS TOUGH SUMMER VOLLEYBALL CAMP 2016 REGISTRATION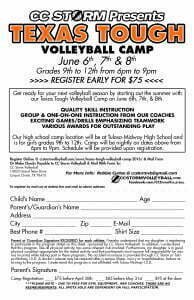 PLEASE NOTE –If you can not make it or cancel, due to fees for the gym, various equipment, and coaches fees, you will not be reimbursed. All spots sold are dependent on having a full gym and participation.